CAKE DECORATING & DESSERT
BOOKS & MORE FOR SALE!


We are always buying and selling hard-to-find cake decorating, sugarcraft and baking books which we think will be of interest to fellow cake decorators. We're now offering them on this special page of our website. If you're looking for any books not listed here, Email us and we'll notify you if we find it in the future.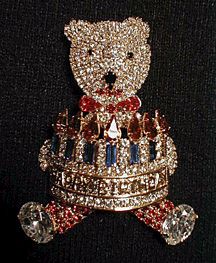 BIRTHDAY CAKE TEDDY BEAR PIN
This absolutely gorgeous pin is made with dazzling Swarovski crystals. Each stone is individually prong set (not just glued) and the pin measures a great big 3 inches tall. This adorable bear holding a birthday cake complete with candles is a guaranteed head turner at ICES conventions, cake clubs and parties! $24.95
~ BOOKS ~
COOKIE TIME: WITH VINTAGE COOKIE JARS FROM THE ANDY WARHOL COLLECTION by Marilyn Miller Wasbotten - 1992 first edition, 96 pages, as new condition in pictorial binding. 45 original cookie recipes accompanied by wonderful color photos of more than 35 wonderful vintage cookie jars. $14.95
FROSTING FANTASIA: CREATIVE CAKE IDEA FROM SUN VALLEY SHOW WINNERS - 1972 paperbound, 26 pages, very good condition with previous owner's name label on cover. Full of color and b&w photos of the grand prize winners from this major California cake show. $4.50
HOMEMADE ICE CREAM AND CAKE by the Food Editors of Farm Journal - 1972 hardcover in dust jacket, 224 pages, very good condition. Hundreds of fabulous recipes from simple old-fashioned cakes and ice cream to special festive creations like Cherry Coconut Ice Cream Pie. Also features a section on "Easy Does It Decorating." $5.95
THE ICING ON THE CAKE by Greg Robinson and Max Schofield - 1989 hardcover in dust jacket, 192 pages in as new condition. This very scarce and desirable book features step-by-step instructions for creating some of the most amazing figural cakes you've ever seen! Cakes include an alley cat, champagne on ice, box of roses, hot air balloon, treasure island, partridge in a pear tree, thatched cottage and many more! Gorgeous color photos throughout. $34.95
THE LAMBETH METHOD OF CAKE DECORATION AND PRACTICAL PASTRIES by Joseph Lambeth - Copyright 1934, sixth edition hardcover printed in 1968 with beautiful embossed brown and gold decorative binding. This book is in excellent condition and looks like it was never used. The only imperfection is a narrow paint drip mark on the spine. This gorgeous 360 pages hardcover is the "Holy Grail" of all cake decorating books! It would make the perfect gift for someone very special (especially yourself)! The breathtaking cakes in this book represent the ultimate skill in the art of cake decorating including exquisite overpiped designs, runouts, stringwork and so much more. In addition, it includes step-by-step photographed instructions for piping wonderful embellished borders, flowers and figures. Copies of this book are sold by other dealers for up to $700.00, making it out of reach for most people. I'm offering it to my fellow decorators for only $250.00.
100 RECETTES AU CHOCOLAT - 1985 paperbound, 80 pages, printed in France, very good condition with inscription to previous owner on endpaper. A spectacular book on everything chocolate. Text is written in French and includes recipes and color photos of lots of wonderful cakes, tortes and desserts including some delightful novelty cakes. $3.95


ORDERING INFORMATION
We accept payment by PayPal, cash, check, money order or any major credit card. Books will be shipped by your choice of Book Rate or Priority Mail. Pins will be shipped by First Class Mail. Postage and optional insurance cost will be added to your order. Virginia residents add 5% state sales tax.
Orders can be placed by email, fax, phone or regular mail. If you'd like to pay by by credit card, please provide your name, shipping address, phone number, type of credit card, card number, expiration date, and the address your credit card bills to (if different from shipping address).
NIGHT OWL BOOKS
5307 Macwood Drive
Woodbridge, VA 22193
USA
Phone: 703-590-2966
Fax: 413-581-2966
e-mail: nightowlbooks@verizon.net

Home | Search | Our Wants | E-mail Us
Cult Movie Posters | Vintage Movie Posters | Elvis Presley Movie Posters
Western Movie Posters | Blaxploitation Movie Posters | Martial Arts Movie Posters